The BIG NERO LED ground light is the perfect fixture for illuminating tall trees or walls from gravel, grass, pavement or wood.
Produces a strong and very wide, focused light
Designed for illuminating tall elements up to 6½ meters
Fitted with in-lite motion
Installation advice:
3 BIG NERO on the edge of the trunk, aimed at the top
Product overview
Features
With its new single-chip LED and world-leading LEDiL® lens, the BIG NERO has a light distribution of at least 6 1/2 meters, with a light angle of 49 degrees.
The new BIG NERO features the new in-lite Motion technology.
This technology makes it extremely easy to adjust the light source without having to open the fixture. Simply hold the magnet provided up to the in-light logo and the light source will tilt automatically.
Specs
Lighting direction
Upwards
Processing
Concrete, Grass, Gravel, Natural stone, Soil, Wood
Installation instructions
Installation instructions
The BIG NERO can be buried or integrated into various types of concrete products, natural stone and wood. This requires drilling a 142 mm hole. If the new BIG NERO or BIG NERO NARROW is included in a lighting plan, the following guidelines must be followed: Always use the 10/2 cable, do not exceed the maximum cable length of 40 meters or the number of fixtures (HUB-50 for up to four BIG NERO or BIG NERO NARROW fixtures and up to seven with the HUB-100. The SMART HUB-150 for up to max. 11, max. 7 at one line).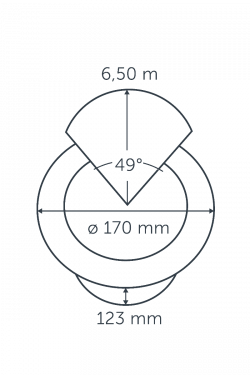 Back to top