The ACE FLAT GREY outdoor bollard emits a dispersed light downwards on two sides and can be used among plants and ornamental grasses.
The EASY-LOCK is supplied as standard with this luminaire. The cable length on this luminaire is 60 cm.
Produces an attractive soft light
Designed for illuminating a driveway or walkway
Tilting light source
Installation advice:
An ACE every 2 to 3 meters
In the box
Included
1x EASY LOCK
60 cm Fixture cable
1x Ground pin
2x Nylon plug
2x Screw
1x Torx wrench
Product overview
Product Details
The ACE FLAT GREY can be recognized by the high-quality FCVB coating in the distinctive color Flat Grey, the black accents around the lens and the black installation screws.
Specs
Lighting direction
Adjustable
Application
Border, Driveway, Deck
Processing
Concrete, Gravel, Soil
Installation instructions
Installation instructions
The ACE can be installed along walkways, driveways and borders, either using screws on hard surfaces or a ground pin in soft surfaces (both included). Important! This fixture emits a downward light on two sides. The light source can be tilted 66 degrees.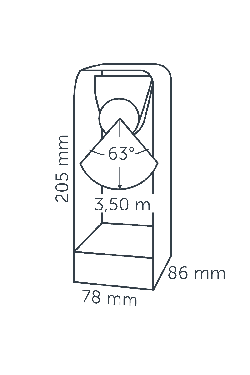 Recommended accessories