The new SUB underwater spotlight has been fully updated. Like the other in-lite SCOPE outdoor spotlights, the SUB now also features the modern in-lite design style.
The new SUB is stylish, strong and fully corrosion-resistant
Made of glass fiber-reinforced nylon and anodized aluminum
Exceptionally strong thanks to new light source with wide beam of light
Specifications
General
The new SUB is fitted with a 3W (4.7 VA) light source. This yields an increase in the light output by 96 lm (currently 293 lm) and a wider light angle. The result is an even more impressive lighting effect, both under and above water.
Product Details
Housing
Fiberglass reinforced nylon
Lighting direction
Adjustable
Installation instructions
Installation instructions
The SUB is delivered fully assembled and includes a 10 meter cable. This length ensures that it is always possible to connect the SUB in the pond to the 12V ground cable in the yard outside the water using the Easy-Lock.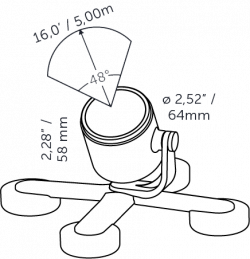 Back to top